I have received information and materials from ©Johnson & Johnson Consumer Inc. 2017.  The opinions stated are my own.  This is a sponsored post.  #ForBetterTomorrows #BetterTomorrows #FallBack #CollectiveBias
A little over a month ago, I was "casually" browsing adoptable dogs online when I came across a teeny, tiny puppy named Flynn who was in need of a forever home.  His adorable appearance and adjective-laced biography quickly won me over and, before we knew it, my husband and I were bringing little Flynn home.  Being a family of four has come with its challenges, the two most prevalent being a decrease in sleep and an increase in bumps, bruises, and puppy bites.
I may be guilty of not quite fully thinking through what the reality of a puppy would be like in our lives.  Flynn, our new addition, is a bundle of puppy energy and curiosity.  Sometimes this results in him hurling his little body at either my husband or myself full force; other times it takes the shape of accidentally nipping us during a play session.  However it happens, I have noticed that my poor body has been riddled with various bruises and scratches since he came home.  You know, the kind you don't notice at the time of injury but the type you are suddenly acutely aware of when you're unable to drift off to sleep at night due to lingering aches and pains.
Just like everyone else, my busy schedule does not have room in it for a poor night of sleep, particularly now that we have fewer hours of daylight to accomplish things in.  Luckily, I have picked up a few tips and tricks over the years to ensure that I quickly fall into a deep, restful sleep, regardless of what is going on in my life.  With the help of TYLENOL® PM and my recipe for Soothing Sleepy Time Golden Milk, you too can enjoy one peaceful night of sleep after another.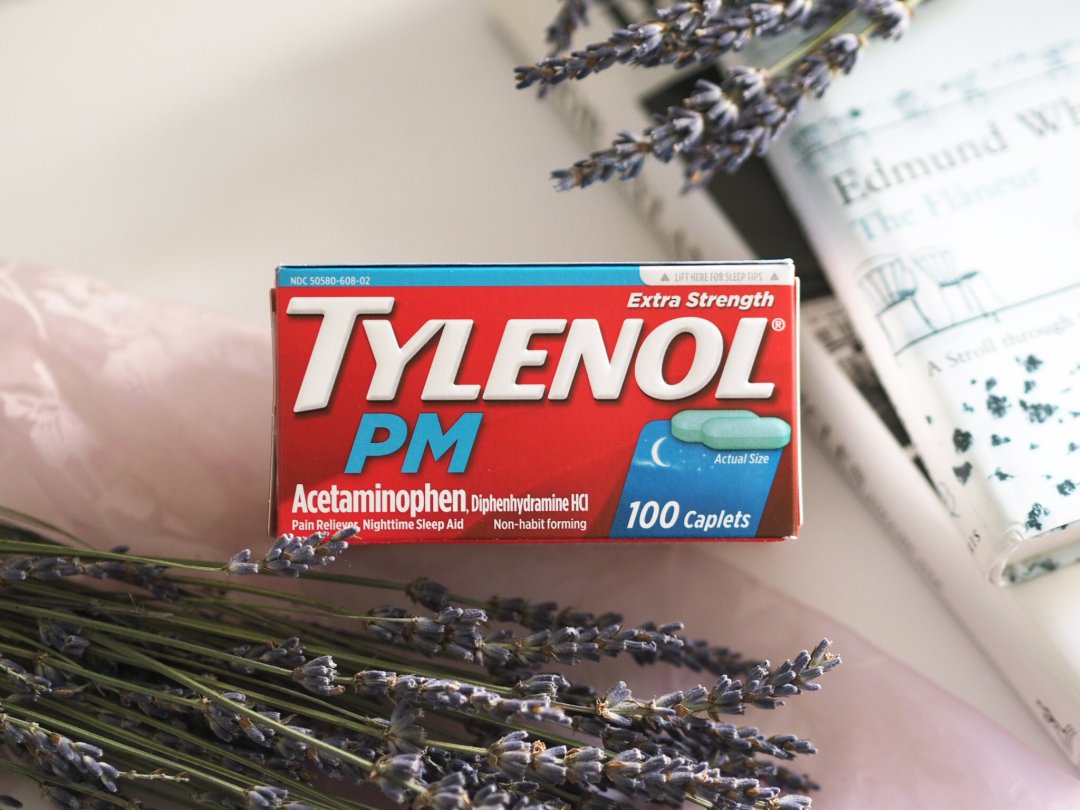 Hover over the above photo for a very special offer from TYLENOL® PM and Walgreens!
After learning that sleeplessness due to pain is one of the top problems that consumers face, TYLENOL® and Walgreens decided to team up.  This fall and winter, as the hours of daylight decrease, TYLENOL® and Walgreens' commitment to ensuring that their customers get a restful night of sleep increases.  When used as directed,  TYLENOL® PM relieves minor aches and pains (even the kind caused by overly curious puppies) while helping you drift into a deep, relaxing slumber.
In today's modern world, we are all juggling more than ever before.  Some of you are working mamas and bloggers; others are students, working part-time, and still managing to juggle their blogs.   Our stress levels are at an all time high and the refrain, "there just aren't enough hours in the day", is constantly ringing through the blogesphere.  With so much on our plates, it is imperative that we don't lose any precious time to a poor night of sleep.
I have found in my own life that one bad night of sleep can have effects that last for weeks.  The morning immediately following a night of interrupted sleep, I am sluggish and slow to react on my morning commute, clumsy and forgetful around the office, and I require seemingly endless cups of coffee to get me through the day.  If I have even an ounce of energy left by the time I get home from the office, I struggle through a workout, generally doing more harm than good to my body in the process, then collapse into bed as soon as possible, hoping for better luck the next night.
Since I incorporated TYLENOL® PM and the other four below steps into my nightly routine, I have found that I am able to fall asleep faster and sleep through the night, uninterrupted by the aches and pains that previously plagued my slumber.
Five Steps to a Restful Night of Sleep
Put away all electronic devices an hour before you want to fall asleep.
Wind down with a mug of Soothing Sleepy Time Golden Milk half an hour before bedtime.
Incorporate TYLENOL® PM into your nightly routine, taking two caplets at bedtime.
Spray lavender essential oil onto your pillow case and dot it on your pulse points for added serenity.
Cozy up in bed, focus on your breathing, and let TYLENOL® PM help you drift into a deep, restful sleep.
As we embark upon the holiday season and the final weeks of 2017, it is now more crucial than ever that we all get our much needed nightly rest.  With the stress of holiday travel, family gatherings, and New Years resolutions on the horizon, these five tips are guaranteed to help you get the restful slumber you so desire.
TYLENOL® PM contains a pain reliever and nighttime sleep aid. ©Johnson & Johnson Consumer Inc. 2017 The third party trademarks used herein are trademarks of their respective owners.
Incorporate this calming beverage into your nightly routine and enjoy a night of deep, restful slumber.
Servings

Prep Time

1

person

2

minutes
Servings

Prep Time

1

person

2

minutes
Incorporate this calming beverage into your nightly routine and enjoy a night of deep, restful slumber.

Servings

Prep Time

1

person

2

minutes

Servings

Prep Time

1

person

2

minutes
Add turmeric, coconut oil and cloves.

Strain into a mug through a fine mesh sieve.

Sweeten with honey as desired.